Where there was ancient software, there is now modern technology.
Where there was cluttered design, there is now an intuitive user-friendly interface.
Where there were complicated daily tasks, there is now customizable simplicity.
And where there was slow and frustrating "customer service", there is now step-by-step professional help available when you need it.
It is the dawn of a new era.

Worklio™ is a new company that will infuse the PEO industry with a new source of power. The Worklio™ system connects the PEO, its client companies, and their worksite employees in a comprehensive Human Capital Management (HCM) solution. Everything is compatible. All of the data is consistent. And everything exists in an enclosed, integrated, configurable, and secure system.
Click here to download the Worklio brochure.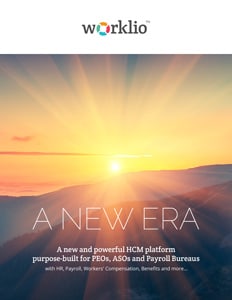 The Software-as-a-Service platform is custom-built on the latest Microsoft .Net and MS SQL 2016 technology platform, designed and optimized for the Microsoft® Cloud, and available 24 x 7 across all devices.
The design is intuitive and user-friendly, making information easy to find and procedures simple to understand.
Complicated functions are simplified with step-by-step instructions and customization allows for streamlining daily tasks.
Customer Support is always available and professional.
Worklio: A new beginning for the PEO industry.
* * *
Worklio™
PAYROLL, HR, WC & BENEFITS
The Modern PEO/ASO Software Platform